PEW & FLOOR RESTORATION PROJECT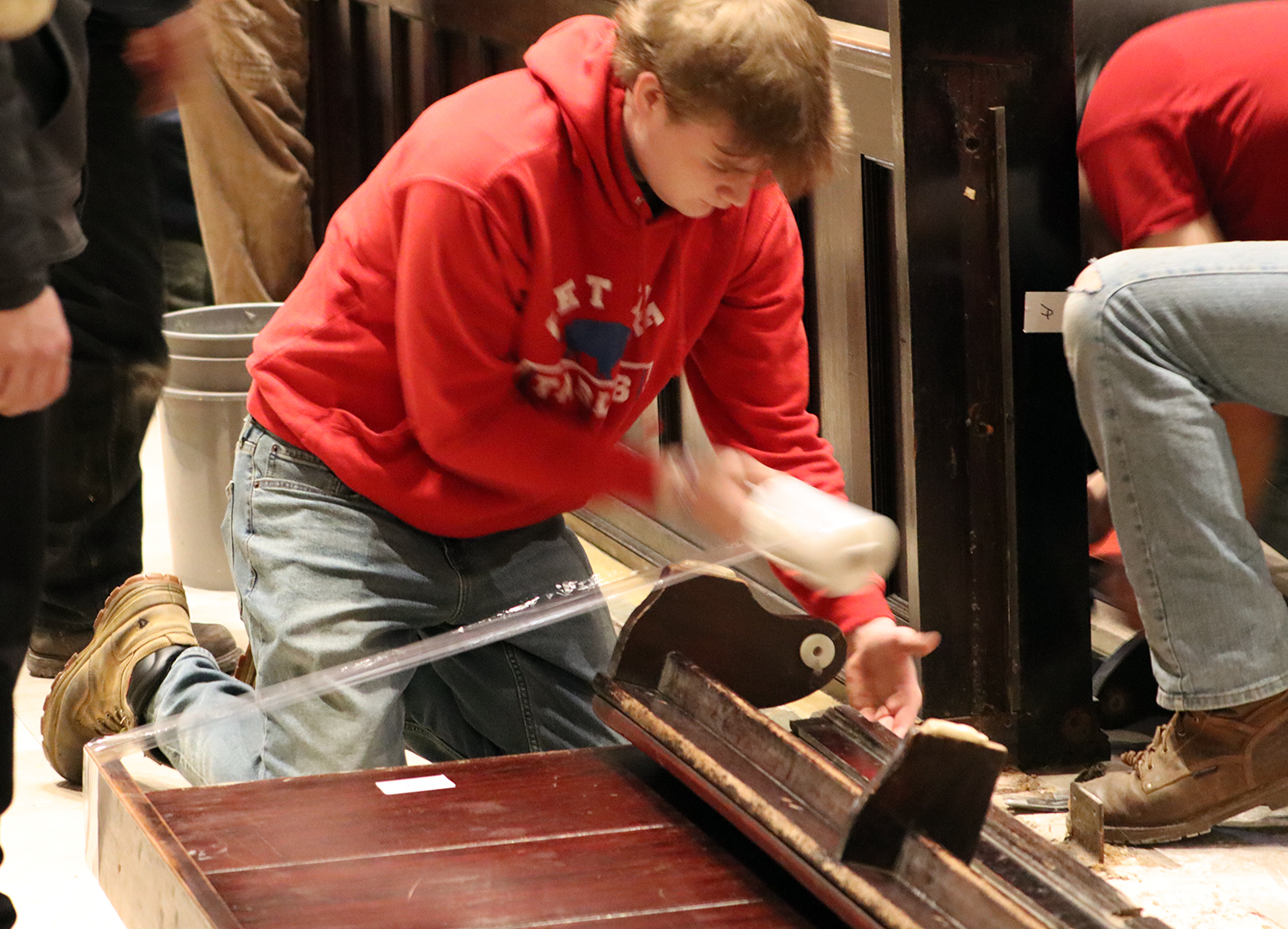 A new chapter in OLV National Shrine & Basilica's storied history began on Monday, January 9, 2023.
That morning, immediately following 7:30 a.m. Mass, the first 10 rows of pews were (carefully) dismantled, wrapped and taken away for restoration by members of the team at the renowned Kittinger Furniture Company of Buffalo.
Shortly after that, work will begin on refurbishing that same area's marble floors.
Once the first 10 rows of pews and that first section of floor have been restored, additional pews will be removed and floor sections worked on, moving progressively toward the rear of the Basilica.
If all goes according to plan, it is expected that this project will be completed in time for Holy Week.
---
What does this mean to you?
It is our intention to keep the Basilica open to all throughout the restoration process. That said, you can expect the following:
Weekday 7:30 a.m. Masses will be held in the upper Basilica (but could be moved to the lower level on occasion).
Weekday 12:10 Masses will be held in the Susan E. Brvenik Community Room in the Shrine's lower level (near the Father Baker Museum).
Weekend Masses (Saturday Vigil Mass and Sunday Masses) will continue as usual in the upper Basilica.
It is possible that, on occasion, certain entrances or aisleways may need to be closed and/or the elevator made inaccessible due to the work. If these inconveniences do occur, we will let you know with signage or through our on-site security team.
We ask for your patience during this time and hope you will see the process of pew and floor restoration as another exciting step toward the historic rebirth of our beloved Basilica. We hope you are as passionate about this project as we are!
---
Stay Updated...
It is our commitment to keep the community up to date as this exciting project gets underway and continues for the next several weeks.
If you have any questions or concerns at all, just call the Rectory at (716) 828-9444.
We will also be communicating through the parish bulletin and parishioner robocalls and our social media channels ... if you don't already follow us on social media, now is the perfect time to do so!
---
Support our Shrine!
Click below to support the ongoing preservation efforts to ensure OLV National Shrine & Basilica is able to remain a point of pride for our Western New York community. Every gift makes a big difference!