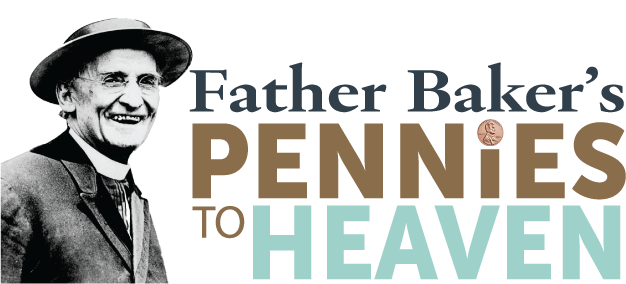 We are proud to announce that OLV's Father Baker Day Mass and Pennies to Heaven celebration will return in 2021!
The 2021 event will be held on Sunday, August 15, 2021 and will include:

10:00 a.m. "Father Baker Day Mass" & "Pennies to Heaven"
Our 10:00 a.m. Mass will be concelebrated by Fr. David, Fr. Paul, Fr. Romulus, and Fr. Justin. We will have the traditional procession and laying of the wreath at the tomb of Father Baker. We invite you to begin to collect your "pennies" (and larger coins!) for the time-honored tradition of dropping off coins in the front of the OLV Basilica on Sunday, August 15. Pennies and other coins can be dropped off in front of the Basilica anytime before the 8:00 a.m. Mass and continue until after the 12:00 noon Mass.
**Can't attend but still would like to donate your spare change? Please click here to make your donation.
1:00—4:00 p.m. Drive-Thru Chicken BBQ in the school parking lot
Due to the uncertainty of COVID-19 restrictions, we have decided to keep this a "Drive-Thru/Take-Out Only" event for your meal. Dinners are $13 and include a half chicken, potato, cole slaw, and dinner roll. Fried dough is available to purchase for dessert! What better way to support OLV and not cook in the summer?? Chances (3 for $10) will also be available for purchase to win a wreath made of lottery tickets because hey, you never know!!
Dinner tickets & lottery chances can be purchased after all Masses starting Saturday, July 24th or online by clicking here.
Sponsorships
Sponsorships are available that include chicken BBQ dinners and advertising opportunities. More information on sponsorships, please contact Carm Zomeri at 716-828-7494 or [email protected]
For more information
If you have any questions regarding the Father Baker Day Mass or our Pennies to Heaven fundraiser and BBQ, please do not hesitate to call the rectory at 716-828-9444.
THANK YOU TO OUR WONDERFUL SPONSORS!
| | | | | |
| --- | --- | --- | --- | --- |
| | | Platinum Sponsors | | |
| | | | | |