CHRISTMAS AT OLV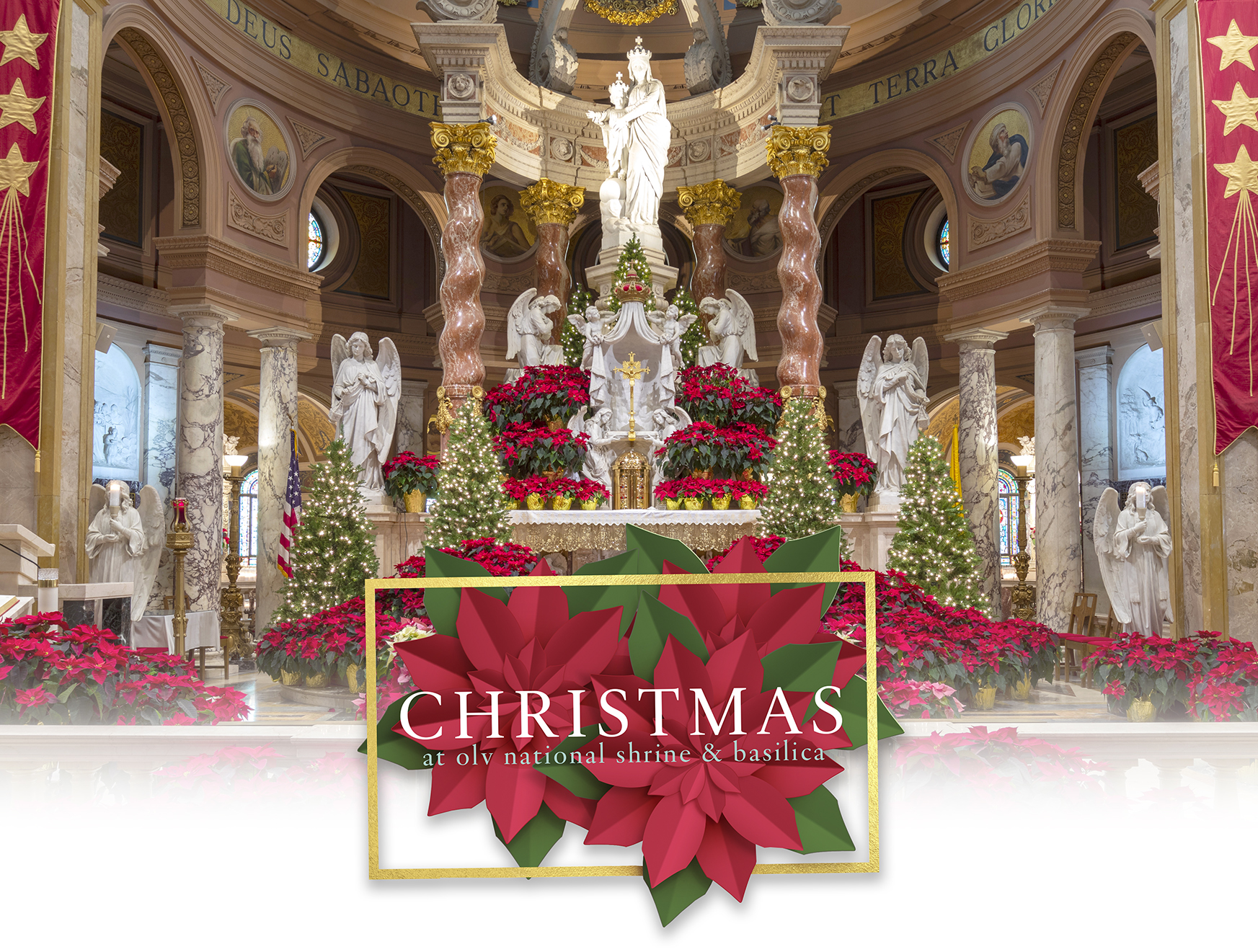 Celebrate the Joy of Christmas at OLV
JOY TO THE WORLD! The Christmas season is a time when we open our hearts to celebrate the birth of Jesus with family, friends and other members of our faith.
We are hopeful that, this year, you will join us at OLV National Shrine & Basilica. In addition to the traditional Masses – both online and in-person – you are cordially invited to the following special events in honor of the Shrine's ongoing Centennial Celebration.
---
Special Events
NATIVITY SET EXHIBIT (Nov. 26-Jan. 6) – Nativity sets made of all sorts of materials, hand-crafted by artisans from dozens of countries, make up this unique, must-see exhibit that is made possible by the Saint Francis Nativity Museum. The display can be viewed daily between Nov. 26 and Jan. 6 in the lower level of the Shrine during normal visiting hours.

HANDEL'S MESSIAH (Dec. 4) -- A special holiday tradition continues as the Buffalo Philharmonic Chorus returns to perform Handel's Messiah in the hallowed halls of the Basilica at 7:30 p.m. A limited number of tickets are available, so get yours today at www.bpchorus.org.

FESTIVAL OF LESSONS & CAROLS (Dec. 11) – For the second year, we will celebrate the Festival of Nine Lessons and Carols in the Basilica. Join us at 7 p.m. for this FREE family-friendly evening of Scripture and song. Tickets are not required.
---
Mass Times
CHRISTMAS MASSES:
Saturday, December 24 - Vigil Masses at 4 p.m. and 6 p.m.
Sunday, December 25 – Masses at midnight, 8 a.m., 10 a.m., and noon (there is no 4:30 p.m. Mass)
MASSES FOR THE SOLEMNITY OF MARY THE MOTHER OF GOD:
Saturday, December 31 - Vigil Mass at 4:30 p.m.
Sunday, January 1 - Masses at 8 a.m., 10 a.m., and noon (there is no 4:30 p.m. Mass)
SACRAMENT OF RECONCILIATION:
Saturdays from 3-4 p.m. and 7-7:30 p.m.
Thursday, December 22 from 3-4 p.m. and 7-8 p.m.
Friday, December 23 from 3-4 p.m. and 7-8 p.m.
---