About The Heritage Program
The Saint John's Bible Heritage Program is an international initiative for individuals and institutions to explore the artistic and spiritual beauty of The Saint John's Bible. Through its primary offering, the Heritage Edition, communities around the world can use this gift of sacred art to ignite their spiritual imaginations for generations to come.
---
The Making of a Heritage Edition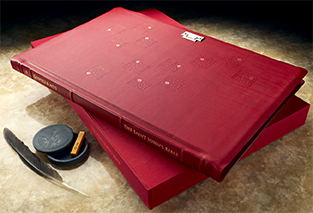 It is not an exaggeration to say that the Heritage Edition would not have been possible even when The Saint John's Bible project began in 1998. It was not until very recently that the quality of printing on 100% uncoated cotton paper necessary to providing this level of quality was available. The paper of the Heritage Edition is designed specifically for this project. The weight and feel of the pages approximate that of the vellum used in the original manuscript.
Donald Jackson directed the making of the Heritage Edition throughout every process to assure its fidelity to the original. The pages are printed using state-of-the-art offset lithographic printing technology from Heidelberg Corporation. Mr. Jackson approved every page before final printing. Correspondence to the original is so important that even the "show-through" caused by transparency in the vellum is captured on the pages of the Heritage Edition.
After printing, gold and silver foils are applied using a series of stamping and embossing processes. In places where results cannot be achieved through mechanical means, Donald Jackson's studio manager, Sarah Harris, has hand treated the illuminations. Therefore, no two Heritage Edition sets are identical.
The volumes are bound—by hand—in a single piece of Italian calfskin leather and adorned with a solid silver clasp. Each head band and tail band is hand sewn in Pakistan. Each volume is numbered and initialed by Donald Jackson, and protected in a burgundy clamshell box.
A 16-page publication describing the seven volumes of the Heritage Edition is now available for viewing and download. Click here to view it.
"When we placed [the Heritage Edition] side-by-side on a table in Cambridge with the great Bible of Bury St. Edmunds Abbey [c. 1135] and the even vaster Bible of Dover Priory [c. 1160], it hardly seemed to be a facsimile at all but a living manuscript, as heavy and as lovely to touch and feel as its medieval ancestors."
– Christopher de Hamel, Fellow of Corpus Christi College, Cambridge, and Fellow Librarian of the Parker Library